tripguide.name
If you're shivering in your down jacket, turning up the seat heater and thinking, "Somewhere in the world, somebody is wearing linen pants and drinking an icy beverage at a resort so beautiful I can't even imagine it," — just know, you're correct! Here are 10 African resorts worth escaping to this winter.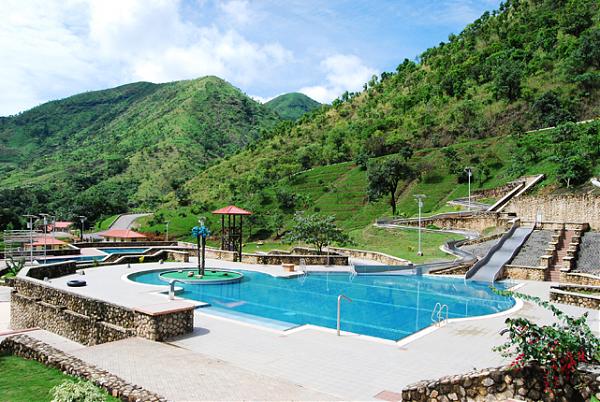 Wikimapia
Nigeria: Obudu Cattle Ranch

Obudu Cattle Ranch is located in Cross River Slate towards the Nigeria-Cameroon border in the South-East. The Ranch is over 1,524m, has temperate weather condition to ensure green vegetation and grazing of cattle round the year. The Ranch is a tourist delight as a result of its divergent attractions. There are a natural swimming pool, horse riding, beautiful waterfall to behold, gorilla camp, bird watching, sporting facilities and accommodation.


Source: onlinenigeria.com
Botswana: Zarafa Camp
You can't get much more intimate with the wild than this. The camp is the creation of National Geographic filmmakers Dereck and Beverly Joubert and naturally, these two know how to pick a gorgeous setting. The four-tent camp sits on the 320,000-acre private Selinda Reserve, with each tent facing a lagoon popular with hippos and elephants. Guests enjoy safari rides from cars designed by the Jouberts for optimal viewing.
Kenya: Ol Donyo Lodge
Guests at Ol Donyo Lodge enjoy views of Mount Kilimanjaro — one of the most famous hiking challenges on the planet — and full use of the Mbirikani group ranch. Horseback safaris, mountain-bike rides, bush walks and visits to a Maasai village are all available to guests. Guests sleep in one of 10 suite lodges. This is another luxury creation from the Jouberts.
Morocco: Dar Ahlam Resort

This property in Ouarzazate looks just how you would imagine a desert resort to look, with rooms inside sandcastle-like structures. The resort is owned by a French theater director and is, appropriately, theatrical in its aesthetics. The staff arranges meals in several picturesque locations from the olive groves to rooftops. Guests have the choice to stay in one of 13 suites, a villa or a tent for two in the sand dunes.
South Africa: Delaire Graff Estate
Delaire is the ultimate in luxury vacations. Owned by British jeweler Laurence Graff, this 100-acre Stellenbosch wine estate houses 10 private lodges, each with its own swimming pool and views of the vineyards. Guests also have the privilege of sleeping among Graff's incredible art collection.
South Africa: Royal Malewane
Royal Malewane is perfect for travelers in large groups. Grand private residences that sleep up to 12 are available, as well as one- and two-bedroom suites. It's the ideal place for big five animal sightings, and is right next to the famous Kruger National Park.
South Africa: La Residence
This 11-suite, five-villa property was Hotelier Liz Biden's vision for a real life "Alice in Wonderland," and she succeeded. The Franschoek property looks truly magical, and guests enjoy farm-to-table dining at every meal, accompanied by wine from the local wineries.
South Africa: Birkenhead House
Ever dreamed of vacationing in a huge mansion? You can do it at Birkenhead, an 11-room mansion in the seaside destination of Hermanus. Many travelers like to spend a few days here relaxing after their inland safaris. From the back patio, guests can see the migration of the southern right whale.
Tanzania: Singita Grumeti Reserves
Singita Grumeti gives its guests access to 350,000 protected acres on the great migration path in the Serengeti-Mara ecosystem — acres that are otherwise off limits to visitors. Here, guests can spot animals big and small from wildebeests to gazelles. Guests can stay in one of the three lodges, which together have 36 rooms, or a private villa.
Seychelles: Frégate Island Private
This is the stuff erotic novels are made of. Set on 740 acres of tropical jungle and perfectly white beaches, the property is home to giant tortoises and other rare wildlife. Guests stay in one of 17 ocean-view villas, each complete with a private infinity pool.
Seychelles: North Island
If you're looking to be truly spoiled, stay on this coconut-and-spice plantation-turned-resort on a private island. Guests enjoy free reign over the 519-acre property, and sleep in villas decked out in furniture and décor made from local, re-purposed materials. What's more, each of the 11 villas comes with a butler.