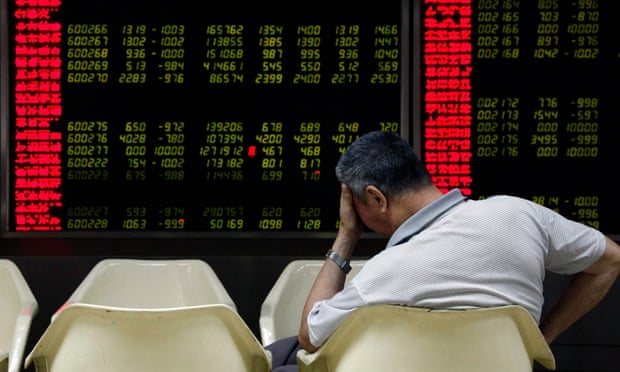 The Chinese stock market has suffered its biggest one-day plunge since 2007 Photograph: Rolex Dela Pena/EPA
European stocks tumbled and US equity markets prepared for steep falls after Chinese shares had their worst day since 2007 – intensifying a stock market rout driven by fears about the world's second-biggest economy.
In lunchtime trading local time, the FTSE 100 had fallen almost 4.5% to 5,914 points, wiping more than £60bn off the index of leading UK shares. It was the first time the index had dropped below the 6,000 mark since early 2013, with almost all companies in the red, and followed a week of declines last week.
The biggest fallers were mining companies that rely on demand from Chinese manufacturers for their coal, iron ore and other metals. Glencore, the giant commodities trader and miner, fell 8% and Anglo American and BHP Billiton each lost more than 7% of their value.
Germany's Dax index fell more than almost 5%, dropping into bear market territory after losing 20% of its value since April. The French CAC index was also down almost 5%.
In the US, traders expected the benchmark S&P 500 index to fall by 3% and the Dow Jones by 4% when trading starts at 2:30pm UK time.
European and US shares tumbled after turmoil returned to haunt the Chinese stock market on Monday. Shares plunged and the country's benchmark stock index lost all its gains since the beginning of this year.
Connor Campbell, an analyst at the spread betting firm Spreadex, said: "The fog of fear over the state of the
Chinese economy
is only thickening, and with little in the way of non-Chinese news to come this Monday, the markets are going to struggle to escape today without some fairly ugly scars. And the worrying thing is it could all worsen this afternoon with the opening of the US markets."
As the Shanghai Composite Index sank by nearly 9% - its biggest one-day drop since 2007 - Xinhua, Beijing's official news agency, admitted
China was facing a "Black Monday"
.
By lunchtime, Hong Kong's Hang Seng Index had fallen by almost 5% and the Shenzhen Composite Index was down more than 7.5%. The Chinese rout sparked an Asia-wide selloff, with Taipei shares plunging nearly 7.5 %, their worst ever one-day drop.
"The private money is all trying to get out of the market and what is holding up the market is only the government intervention," said Rajiv Biswas, the chief Asia economist for IHS Global Insight.
"We've seen a lot of volatility in the Shanghai market with big swings. But clearly this kind of fall is substantial. It is a big event when a market falls by that amount in one day."
Fraser Howie, the co-author of Red Capitalism: The Fragile Financial Foundation of China's Extraordinary Rise, said Beijing's handling of the stock market calamity raised real questions about the leadership of president Xi Jinping and the prime minister, Li Keqiang.
"I think there is now growing realisation – domestically and offshore - that the Chinese leadership are not in control of the situation. Not only are they not in control of it, they don't even seem to grasp the problems at times," he said.
"The real casualty over the summer is the government's credibility. When you look at the stock market intervention, when you look at the FX botch as I would call it a couple of weeks ago, and then you look at the Tianjin blasts, you see a government that is most certainly not in control. You look at this and it sends a very poor picture about China's competency at the leadership level. Who else is responsible here? Xi Jinping seems invisible."
"There are no short-term fixes for what China is going through," Howie added. "This is ultimately a painful unwinding of imbalances and leverage in the system and those processes are always tough and sore. It's a bit like saying what's a quick solution to my hangover? And that is exactly where
China
is at the moment. There are no quick solutions."
Bernard Aw, a market analyst from IG in Singapore, said, "The risk sentiment is really on the verge of panic which is why we are seeing plenty of red screens. The Chinese stock market fell really spectacularly."
Alex Kwok, an analyst at China Investment Securities in Hong Kong, told Channel News Asia: "This is already a small-scale stock market disaster. Any rebound, if there is any, could be just technical."
China's Communist party leaders have launched an unprecedented push to prop up shares since June, injecting trillions of dollars into the stock market and setting up a market "stabilisation" fund.
Source: TheGuardian