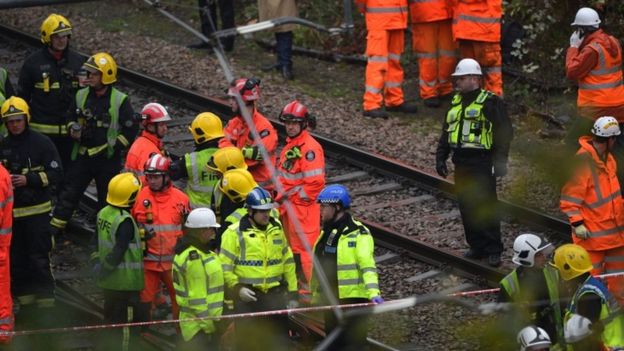 Five people have died and dozens more have been injured after a tram overturned in south London, police have said.
British Transport Police (BTP) arrested the driver but would not confirm what for.
People were trapped inside the vehicle and more than 50 were taken to hospital after the derailment in Croydon just after 06:00 GMT.
Mayor of London Sadiq Khan said the number of dead "may well increase".
Investigators from the Rail Accident Investigation Branch are at the scene.
Live updates on Croydon tram crash
London Ambulance Service said 51 people had been taken to St George's Hospital in Tooting, south London, and Croydon University Hospital.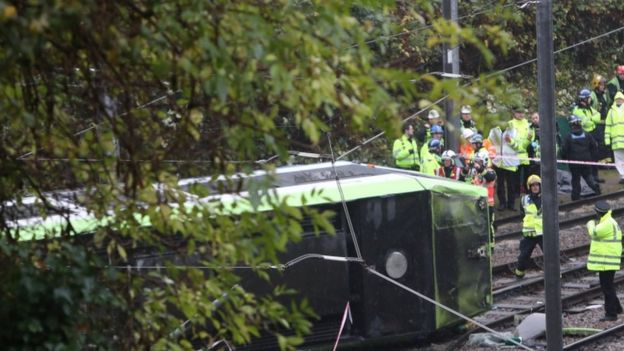 St George's said it was treating 20 people, including four who were seriously injured.
Medical Director Dr Nnenna Osuji said 31 patients were taken to Croydon University Hospital by ambulance while seven others arrived on foot.
She said Croydon's A&E department was still open to other patients but called for anybody with minor ailments to go to local GPs.
The overturned tram remains on its side next to an underpass and appears to have derailed where the track branches.
BBC travel correspondent Tom Edwards said he had been told there is a 16mph (25kph) speed limit on this part of the track.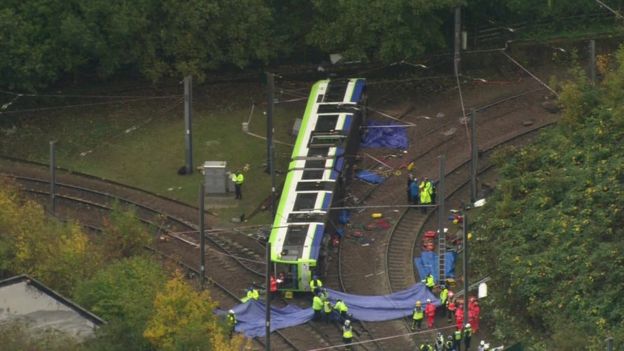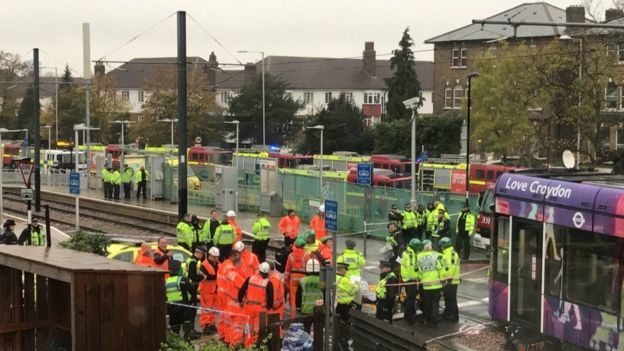 Local resident Hannah Collier said: "I was in bed watching the election when I heard a big crash, which I thought was the wind.
"Then I heard people shouting and then the emergency services arriving."
Peter Allan Jones, who lives in a flat opposite where the tram derailed, said he saw people "walking injured" moving down the tracks towards the main road.
He said one man was "shouting" and had to be restrained by police but "everyone else seemed quite sombre and quite shocked."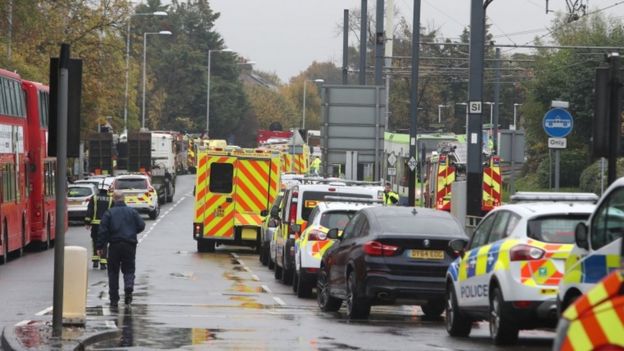 We have no idea how it happened.
What we have been told is that there is a steep, quite a bad bend.
There was also torrential rain earlier perhaps that had something to do with it - but this is all complete speculation.
It's unbelievable that this has happened - it's unprecedented really since the tram opened in 2000.
The mood is extremely sombre.
Prime Minister Theresa May offered her thoughts and prayers and said the government was "closely in touch with the emergency services and other authorities to ensure that all is being done that is necessary to deal with this terrible incident."
Mayor of London Sadiq Khan said: "My thoughts and prayers are with the friends and families of those who have lost their lives today, and everyone involved in this incident.
"I am in close contact with the emergency services and Transport for London, who are working extremely hard under very difficult circumstances to get the situation under control and treat those who have been injured.
"The police have set up a number for friends and family to call for information: 0800 0560154."
A book of condolence has opened at Croydon Town Hall.
Source: BBC.com